Archive for the 'thanksgiving games' Category
Making crafts for Thanksgiving is a fun way to be creative and celebrate Thanksgiving. You can make fun turkey, pilgrim and native American crafts and decorations for your table setting or just to give the kids something to do that teaches them a little about our history.
Thanksgiving is a great time of year to get together with friends and family and do holiday projects with the kids. It really helps everyone get into the holiday spirit and express their creativity. Thanksgiving is a time to be thankful and you can also teach little ones about the pilgrims and their journey to a new world.

Thanksgiving Place Card Craft Kit for 12 Guests
These pilgrim place cards are a cute Thanksgiving craft idea that you can make with children and your Thanksgiving guests will enjoy them too.
Thanksgiving Craft Ideas

Thanksgiving Candle Crafts Ideas

Autumnal Hues Thanksgiving Table Candle Display

Leafy Napkin Ties For a Fall Table

12 Thanksgiving Craft Centerpieces + 4 New Ideas
Thanksgiving Craft Kits
Here are some all in one craft kits that are simple to make.
Thanksgiving Crafts for Kids
Here are some fun pilgrim and turkey crafts kids can do at school or home.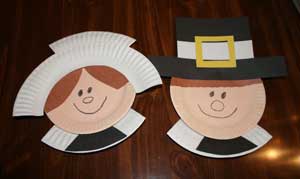 Paper Plate Pilgrim Crafts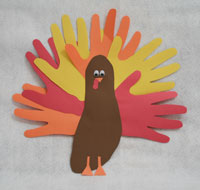 Thanksgiving Handprint Turkey Craft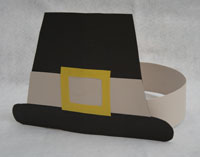 Thanksgiving Pilgrim Hat Craft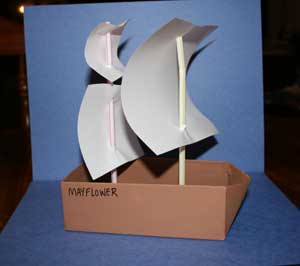 Mayflower Craft
Thanksgiving Crafts
Thanksgiving Craft Videos
Crafts for Fall
Thanksgiving Ideas on Pinterest
i am talking like to 2 to 95

We play trivia games like Scene It or Trivia Pursuit. If you make teams, the most senior and teen members of your family are able to contribute their knowledge – so nobody feels left out.
We also play "rise & fly", which is basically any card game where the winning team continues to sit at the table while the losers must "rise and fly" (get up an let another team sit try their luck). It's fun and the trash talking is highly entertaining!
My aunt always has the football games on for the sports fanatics; her computer available for teens/20/30 somethings; video games; and coloring books/play doh for the youngest members (maybe pay an older child to watch them so the adults can relax?).
She and my uncle have like 100 tvs (lol jk) in their home (he's an electronics fanatic!), so there's always something to watch on dvd if someone doesn't want to participate in any of the activities listed above or be bothered.
I LOVE THANKSGIVING because we can come together in love, enjoy each other's company and EAT all day!
There will be a mixture of adults, teenagers and children. We usually play Rook, go to the movies as a group after dinner. I have 3 tours of our historic city lined up. But what else? I WILL choose a Best Answer in 24 hours. Think of something innovative. My family likes to play games!

Physical Activity:
The Turkey Bowl
Thanksgiving afternoons often involve a football game, so why not make football the theme of your party? Invite guests to come dressed for football. They can choose to be players, fans or cheerleaders. Decorate the table with football placemats or turn a helmet into a centerpiece. Use a football mold to shape stuffing and jell-o.
After dinner, let the games begin! Play touch football outside and have the spectators cheer on the teams. Hand out whistles and pom-poms to liven up the game.
or a Not So Physical Activity:
Everyone's a Photographer
Hand out single-use cameras to the guests. Have them take pictures of the activities during the day. Afterwards, you can create a scrapbook or album using the various pictures.
For extra fun, include instructions with the cameras. Ask guests to build a pyramid, compete in a beauty contest by taking pictures, or come up with Thanksgiving-themed pictures. This way, you will have many laughs when the pictures are developed!
Happy Thanksgiving!
http://elephantmanmusic.com/Portals/0/SteveMerrick/mp3/The_Thanksgiving_Song.mp3
My favorite is Sequence … I wish they'd make it into an online game.
Ooooh Sequence is ALWAYS a favorite @ my house. We also love card games, plain old charades, & animal charades. Trivial Pursuit & Scene It have recently been added to our competitive family Thanksgiving game traditions. lol
we have a wii and want to take advantage of it's all-ages usefulness during parties and get-togethers. what would be some good game suggestions to help entertain our visitors during thanksgiving? we only have 2 controllers, so would that be enough? thanks for any suggestions =D

Well, 2 controllers can certainly be enough, if your guests take turns and everything. Some good games are Mario Party 8, Super Smash Brothers Brawl, Mario Kart Wii, Big Brain Academy: Wii Degree, Wii Music, Wii Play and Wii Sports. Those are a few I can name off the top of my head. Animal Crossing: City Folk can be a blast to mess around with when guests are around, but if you want two players or more, I think I'd stay away from it. I hope this helps, and have a Happy Thanksgiving! :]
Just in case there was any confussion what Player has the most rushing yards on Thanksgiving Day
Not just for a single game but through out there career who has the most.

I think it's Barry Sanders
I have a family coming over for thanksgiving. Are there any good games anyone knows of I can have for our family get together? THANKS!

For some great thanksgiving games go to
http://www.perfectpartyideas.com/thanksgiving-party.html
My family loves them!
Have Fun!
Party Guy
Hi there! You can find all of Cullen´s Thanksgiving videos over at http://www.youtube.com/user/CullensAbcs#grid/user/02210EE1B75D8901
The Turkey game is a fun activity where you can play with your child. It involves listening skills and is very interactive!
Activities are fun for you and your child to do around your home … try incorporating themes! Most Cullen's abc's activities can be prepared and completed inexpensively — usually with common household items.
Duration : 0:2:10
Learn how to play Roll the Pumpkin, a fun Thanksgiving Day game, in this free video with Thanksgiving activities for kids and parents.
Expert: Matt Cail
Contact: www.homepaintings.biz
Bio: Matt Cail is an artist who works in oil, water color and acrylic paints, among others.
Filmmaker: randy primm
Duration : 0:1:9
Learn how to play Popcorn Convoy, a fun Thanksgiving Day game, in this free video with Thanksgiving activities for kids and parents.
Expert: Matt Cail
Contact: www.homepaintings.biz
Bio: Matt Cail is an artist who works in oil, water color and acrylic paints, among others.
Filmmaker: randy primm
Duration : 0:1:20