Thanksgiving is a time of coming together of friends and family to share and give thanks for all the blessings in our lives.  On Thanksgiving we like to enjoy parades, good food, football and an after dinner nap.  To make the best of Thanksgiving a little planning always helps, from the guest list to the food and decorations, all the details make for a more enjoyable Thanksgiving Day.  This site is all about Thanksgiving planning and you'll find lots of information about Thanksgiving dinner ideas, thanksgiving decorating, thanksgiving dinner recipes, thanksgiving games and lots more to make Thanksgiving Day special for you and your loved ones.  Enjoy!


Making crafts for Thanksgiving is a fun way to be creative and celebrate Thanksgiving. You can make fun turkey, pilgrim and native American crafts and decorations for your table setting or just to give the kids something to do that teaches them a little about our history.
Thanksgiving is a great time of year to get together with friends and family and do holiday projects with the kids. It really helps everyone get into the holiday spirit and express their creativity. Thanksgiving is a time to be thankful and you can also teach little ones about the pilgrims and their journey to a new world.

Thanksgiving Place Card Craft Kit for 12 Guests
These pilgrim place cards are a cute Thanksgiving craft idea that you can make with children and your Thanksgiving guests will enjoy them too.
Thanksgiving Craft Ideas

Thanksgiving Candle Crafts Ideas

Autumnal Hues Thanksgiving Table Candle Display

Leafy Napkin Ties For a Fall Table

12 Thanksgiving Craft Centerpieces + 4 New Ideas
Thanksgiving Craft Kits
Here are some all in one craft kits that are simple to make.
Thanksgiving Crafts for Kids
Here are some fun pilgrim and turkey crafts kids can do at school or home.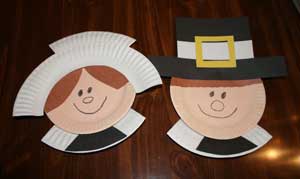 Paper Plate Pilgrim Crafts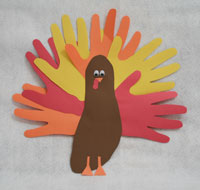 Thanksgiving Handprint Turkey Craft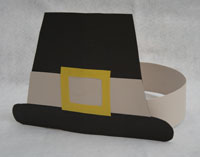 Thanksgiving Pilgrim Hat Craft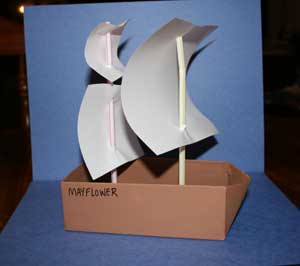 Mayflower Craft
Thanksgiving Crafts
Thanksgiving Craft Videos
Crafts for Fall
Thanksgiving Ideas on Pinterest
Thanksgiving is a time to gather around the table with family and friends to celebrate all the blessings in our lives. Whether it's simple or ornate, your Thanksgiving table can set the mood for a fabulous meal.
A fall themed tablecloth and centerpiece will be an inviting addition to your Thanksgiving decorations.
This pumpkin and gourd cutwork tablecloth with runner is a festive and stylish look for your table.
Pumpkin and Gourds Cutwork Table Linens
This harvest cornucopia centerpiece floral arrangement will impress your guests and set the theme of bounty for your Thanksgiving table.

Fall Cornucopia – JustFlowers.com
Check out more Thanksgiving Planning ideas here.
Have a wonderful Thanksgiving with your family.

Not registered with eBay?
Click to sign up
Didn't find what you were looking for?
Product search
Me and the family our having our first dinner together in maybe 2 years. Were not so close any more. I'm just wanting everyone to enjoy this dinner as if it were any other. Like I said were not really close so what should we talk about?
It's a dinner for 4. Me, my brother & sister (both younger), and my mom. If that helps any…..
Oh Happy Turkey Day to all! Best of luck on your meals together tonight!

well I see your questions late but in any occasions just be a good brother a son because that's what you are you just be yourself and make them feel comfortable to talk with you.
What can I serve with this dinner? I want it to be different than Thanksgiving dinner. Can anyone give me any ideas?

I put a link to a discussion with the same question, looks like there's a bunch of suggestions.
Personally, I like to do a non traditional potato (maybe sweet potatoes with brown sugar & walnuts) along with a green bean casserole. I'm not sure what you served for Thanksgiving but think of warm savory side dishes that use nutmeg and other holiday spices.
Can you help me find good recipes for turkey, side dishes, and deserts?
I used to go to my grandmas for Thanksgiving. But she died in April. I got custody of the two children she was raising. I want to plan a wonderful Thanksgiving dinner for them. Do you think you can help me? Do you know of any good websights or books?

last thanksgiving was my first time preparing thanksgiving dinner and i found a lot of wonderful recipes from paula deen on foodnetwork. of course at the time it was what they were showing the few weeks before thanksgiving and i also bought her magazine. my familys best food memory of thanksgiving last year was the pineapple upside down biscuits , also a paula deen recipe! ive listed it below for you. good luck and so sorry that you lost your grandma! best wishes to you and yours this holiday season!
Pineapple Upside-Down Biscuits Recipe
1 (10-ounce) can crushed pineapple
1/2 cup packed light brown sugar
1/4 cup (1/2 stick) butter, at room temperature
10 maraschino cherries
1 (12-ounce) package refrigerated buttermilk biscuits (10 count)
Preheat the oven to 400 degrees F.
Grease 10 cups of a muffin tin. Strain the can of crushed pineapple, save juice for later. Combine the pineapple, sugar, and butter, and mix well. Divide the pineapple mixture among the muffin cups. Place a cherry in the center of each muffin cup, making sure cherry hits bottom of cup. Place 1 biscuit in each cup on top of sugar and pineapple mixture. Spoon 1 teaspoon reserved pineapple juice over each biscuit. Bake for 12 to 15 minutes, or until golden. Cool for 2 minutes. Invert the pan onto a plate to release the biscuits. Serve warm.
I am looking for some new and interesting ideas to cook for Thanksgiving dinner. What are your favorites? Something new? Something interesting? Please share.

Green bean Casserole!! It's so good!! Green beans in a casserole dish with cream of mushroom soup and top it off with bacon and cheese and a crispy crunchie topping!! MMMMMMMMMMMM! Is it Thanksgiving yet? You just made me hungry!! I hope you try this!!
My church is holding our annual Thanksgiving dinner Saturday night and I must bring a covered dish.
I want something simple, but delicious, with very few ingredients. A side dish, or even a dessert. More than likely I don't want to make a dessert (everyone will be making a dessert).
What should I make? Something creative that nobody else would bring….. Nothing like mashed potatoes (somebody more than like is bringing them).
Thanks…. If you just want to give me a recipe or if you just want to tell me some ideas.

How about a fruit salad made with chopped fruit, chopped nuts and those mini colored marshmallows for additional color. Make a glaze for the dressing using orange juice and powdered sugar – bring to a boil, cool, and mix into the salad. It's always been a hit at my Great-Aunt's church and no one else ever brought it.
The other thing she always brought was strawberries dipped in chocolate.
I want to prepare an elaborate Thanksgiving dinner, please list some must haves(each individual has their own opinion)and hopefully I can get some great ideas. This dinner will be for 20 adults and 20 kids. So some kid friendly ideas would be awesome as well!

Wow, you have a large family! Kids tend to like sweets. Fruit Salad with whipped cream, sugared sweet potatos , pies (pumpkin and pecan are delicious!)
Some kids won't want the turkey or will only want choice cuts – and since there are so many people – you could include hot dogs or hamburgers for the hard to please kids.
Adults usually enjoy cranberries, cheese, and wine. (That's if you don't have someone who will become wild with it. lol)
Everyone typically enjoys: Mashed potatos (regular), Green bean casserole, Corn Casserole, Rolls, Stuffing, and orderbs (including meatballs, cake bites, eclaires, etc.)
Remember a great Thanksgiving dinner doesn't HAVE to be traditional.
any ideas?
we are a vegan family but my nieces are not we are celebrating thanksgiving and I need some vegan tips